Procrastination – the biggest distraction of all!
Procrastination – the biggest distraction of all!
So … in my last blog I was talking about distractions and about how easily distracted I can be with the many, many distractions that there seem to be in my life both personally and professionally. Combine this with being one of the World's best procrastinators and it's a surprise that I actually manage to get anything done! It starts as soon as I wake up and lasts until my head hits the pillow, I'm sure it's happening even whilst I sleep as well, my mind keeps whirring about a ton of things that I'm even putting off getting some sleep.
I wake up with the aim being to get up and get going, the reality is I'll find something to do that stops this happening – I always have a book on the go and rather than getting myself up and out of bed I'll procrastinate and have a read, always saying just one chapter but before I know it a half hour has gone by. Oh and I'll intersperse this with checking of my emails, messages, social media on my phone! I then become frustrated because I'm not getting done the things that need doing.
I know it's super important to have time to myself, to look after myself and to do things which help me relax and that I enjoy, such as reading BUT … not when it's become another method of procrastination and stops me actually enjoying my own time, as I'm always worrying about what I'm not doing, and when I procrastinate when I'm meant to be working then I worry that I'm not getting my work done. I'm not currently benefitting from procrastination either on a professional or personal level so is it something that I should work on not doing or could it be something, if done properly, I could use to my advantage?
Most of the time I've justified being a procrastinator as being a good thing as it gives me time out, refocuses my brain and my thought patterns, I'm a big thinker too (a blog for another time!) and, in the long term, helps me to eventually GSD (Get Shit Done) but it's not helping me be as productive as I need to be which leads to frustration, unhappiness and stress.
We all procrastinate, it's part of life, part of who we are especially when we know that there's a task to do that may not be one we're particularly going to enjoy or we know it's going to take a long time to do. I also find I procrastinate when I may not be sure of how to do something and rather than take the time to 'get into' the task and finding out how to do it I find myself putting it off and doing other things instead.
Funnily enough out of all my blog posts so far this has taken the longest time to write because guess what I keep doing?!! Procrastinating! Combined with the distractions this getting things done isn't going so well. So what am I going to do about it? What tips can I implement that could help you as well if you, like me, procrastinate?
1: Keep saying to myself 'JUST DO IT!'
2: Work out what is making me procrastinate and what do I do when I procrastinate.
3: Prioritise things into what must get done, what would be nice to get done and things that can wait to get done.
4: Allocate time to 'focus' and time to have a break/procrastinate – maybe I could have structured procrastinating time!!
There will be many more things I am sure that I will implement on my journey of learning how to be more constructively productive and I will share these with you as I go along but for now, I need to stop the procrastinating and get this blog up on my website and out there to share.
If you procrastinate and want to share your tips, advice and solutions then please do so, it's good to share!
Copyright © 2016 Louise Grafton-Mitchell. All rights reserved. No part of this Blog shall be reproduced in any form or by any means, electronic or mechanical, including photocopying, recording, or by any information retrieval system without written permission of the publisher.
Download one of my free guides to start your journey to living a thriving, fulfilled life.
Your 7 Step Guide to Achieving Your Goals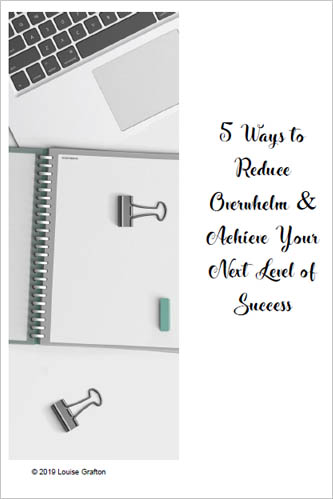 5 Ways to Reduce Overwhelm & Achieve the Next Level of Success