About me
I'm so excited to welcome you here, to share with you my experiences and to coach you to help you get back on track and to stay on track with who you want, and were meant to be, to help you to fulfill your potential.
I am super passionate about what I do and I am equally passionate to help others feel the same.
I help women who feel like they're going through the motions in their predictable, 'already mapped out for them' lives, to break free and discover what they truly want out of life in order to be happy and fulfilled.
I specialize in enabling my clients to find the balance between health, relationships, personal development and their everyday personal and professional responsibilities, so that all areas of their lives are aligned and in-sync. Plus, I help them to bring the fun, laughter and enjoyment back into their lives.
My own story starts in Brighton, England.
I was born in Brighton in the UK, and was then very fortunate to spend most of my early years growing up abroad in Saudi Arabia, Singapore and Bahrain with my parents and 3 siblings. These were very happy years and I had a very active, outdoors life where I took part in many activities (swimming and gymnastics at the top of that list).
Returning to the UK in my mid-teens was a culture-shock. I started to rebel, skip school, and not live up to my full potential. I was just trying to "fit in" like many my age and, being of a highly-sensitive nature, it wasn't easy to be 'me'.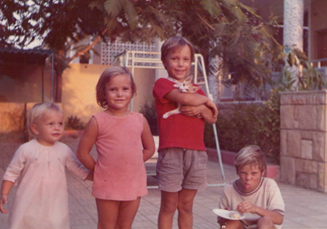 College, Career, and Motherhood
After high-school I took a break from education and landed a desk job, quickly determined that it wasn't right for me, and started to do a bit of soul searching.
At the ripe old age of 22, I returned to study and acquired a BA (hons) Management degree, obtaining my MBA a few years later plus I also added a PGCE to my name.
Aged 22 I was diagnosed with PCOS (polycystic ovary syndrome) and told I would be very lucky to have children and would more than likely need fertility treatment to help me conceive.
As you can imagine being told this at such a young age was somewhat heart-breaking but I was at university so I threw myself into my studies and social life thinking that I didn't need to worry about it until later on in life.
Fortunately, it didn't actually appear to be an issue though as at 25 I had my first daughter, Amy, followed by my second daughter, Abbie, two years later.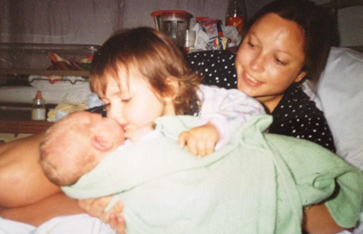 Bring on the Baby Weight (and disordered mental & physical health)...
Totally and utterly in love with my darling daughters, unfortunately the battle with my weight really kicked in after allowing myself to gain 5 stones whilst first pregnant. Whilst I had never considered myself to be super slim or healthy I don't think, looking back, I could say I should have ever been worrying about my weight or what I looked like.
Unfortunately it was the perception of myself, and from other people, that led me to becoming quite conscious about my body from mid-late teens, one boyfriend even wrote in a birthday card to me – 'To my plump girlfriend'! UGH!
By the time I'd reached my mid-20s and became pregnant I'd already done countless diets, taken laxatives, and so called diet pills which actually caused me to come close to passing out whilst on a holiday at the time. Kind of shocking!
If only my older self could have told my younger self that I was actually okay and there was absolutely no need to do any of those things or to be so hard on myself.
However, I did have a real battle losing the extra weight I'd put on during carrying my first daughter and then my second as well and it was around that time that the wearing of the 'baggy' clothes began, to hide my body as if I was ashamed of it (which I guess I was).
I didn't appreciate it for what it had done and continued to do, I was embarrassed by it.
I qualified as an Aerobics instructor 6 months after giving birth the first time and I remember crying in the changing rooms as I had to put my body on display to take the practical exam. In those days it was a thong leotard over cycling shorts, not the best for how I felt my body was at the time.
I put myself on a 'diet', I put myself through my paces at the gym and I spent the next few years up and down with my weight, my self-confidence and my self-esteem.
It was also around this time that my marriage started to unravel and I spent the next decade pretty much being a single mum to my daughters whilst working full-time, teaching classes and struggling to come to terms with being divorced and having to re-find my place in the World.
Journey of Re-discovery
It wasn't until around 2008/2009 that my journey of re-discovery subtly started to happen, not that I noticed it at the time. Only now many years later can I look back and identify the subtle changes that were starting to happen.
Since my relationship with my ex-husband I'd never managed to 'settle' down as such and I think I spent many years trying to find someone with whom I could make this happen, a recipe for disaster, and a lot of time wasted in doing so.
It was only when I started to 'do' things that didn't involve being on the 'lookout' for such a relationship that my relationship with myself started to improve. I stopped waiting for things to happen and I made them happen.
I took myself off on my own to Snowdonia, in Wales, to walk up Snowden. I did hire a guide (poor guy) - I don't think he quite knew what hit him walking up Snowden with me!
Prior to then I'd never actually walked up a mountain so it was, and I was, a challenge to get to the Summit - but I did it and I've climbed many more since!
Following this first big hike I enrolled on a navigating course, again in Snowdonia, where I met many people who opened my eyes to another world: one which I knew existed but I hadn't really paid much attention to before as I was too wrapped up in worrying about what other people thought about my actions and in trying to fit into other people's perceptions of what I should be like.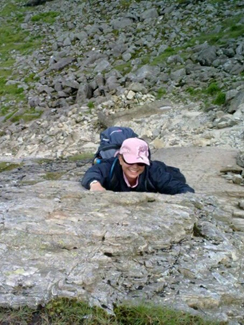 Lanzarote
It was on this navigating course that I met an inspiring woman who indirectly led to me changing the direction of my life.
I'd always wanted to live abroad again and for my daughters to experience another life outside of the UK but, having separated from their father, I never thought that this would ever be possible as the places that I'd considered (Canada, Australia and the US) were too far away to enable them to still maintain a good relationship with him.
Prior to the navigating course I'd had a mini break in Lanzarote with a friend plus Amy and Abbie and, having gotten to know some of the locals, I started to wonder if this could be a possible place to live.
I would need a job though and work wouldn't be easy to find, which is where this wonderful woman I mentioned introduced me to the world of teaching English as a Foreign Language and having done a weekend TEFL Course (to see if I did like it) I returned to studying again and undertook the CELTA course in 2010, alongside my classes and current work.
A few more visits to Lanzarote (including being stuck there during the Volcanic Ash Crisis), a lot of networking, a lot of knocking on doors and I'd landed myself a job.
I found this out in June 2010 and by the September of that same year we'd cleared our house, rented it out, packed up, rented a house in Lanzarote and moved there.
We spent two years on this very special Island and I strongly believe it enhanced both mine and my daughter's lives. I acknowledge that upset was caused by these actions to some of those close to us but the decision to move wasn't taken lightly, it was taken by all of us, and it was the right decision to take.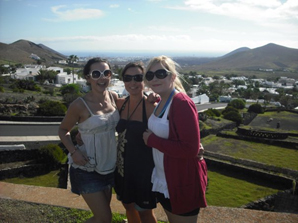 Coming back to the UK, from Lanzarote, I felt a bit lost and it took me time to refocus and find a way forward
I'd moved back into my parent's house, as my house was still being rented out, my eldest daughter started university in Brighton, my youngest started college. Definitely a challenging time, a time where I reflected on my time abroad and how I wanted to move forward. I'd originally contemplated a move into writing as I'd always loved doing this and I started to look into potential courses to teach me the skills that I might need.
I wanted work that meant something, that helped people, that brought out the best in me so that I could help bring out the best in others, I just wasn't sure what that was and I'd been trying to work it out for the past couple of decades!
Many of the jobs I did at the same time, I've never just done one thing, there's always tended to be an overlap apart from my time in Lanzarote. I spent two years teaching English in a bilingual private school to mainly Spanish children, I had every intention of teaching fitness there as well but the teaching job was so full on as was the 'settling in' that I never seemed to find the time to do so, despite having all my fitness equipment shipped over!
I've worked in the Leisure, Health & Fitness Industries for over 25 years coaching sport, managing, coaching and training staff, instructors, clients both individually and in groups. I've also managed buildings (!), well a Sports Centre, Theatre and gym plus created and run an Out of Schools Club Programme and had responsibility for a Health Programme at 3 leisure centres. I have loved seeing how far some of the people I have trained, and worked with, have gone in their careers and in their lives, and the wonderful things that they are doing, very rewarding to see and it's been a pleasure to know that the good work that I started has continued to flourish and thrive.
Coming Back to Being Okay Being Me
It seemed to be only when I started to become happier in myself and more accepting of myself that I made room in my life for my significant other to come in. I'd read The Secret by Rhonda Byrne (having had several people recommend it I thought I'd better have a read!) and it definitely started me changing my thinking, my outlook and my attitude.
I found it really hard to come to terms with the split from my ex-husband, and to forgive myself and him for it happening, something that has only happened with time and reflection.
Since 2008/2009, whilst I was in what I call my wilderness years, through doing things on my own, through moving to and living in Lanzarote, through working for myself and through meeting and being with Mike, through working with other inspirational like-minded people, I have at last started to become true to myself and find out who I am and who I am meant to be.
Whilst in Lanzarote I'd let my health and fitness slip and, following a health check on one of my return trips to the UK I had to face up to this. Subsequently during my final few months on the Island I took better care of myself, I joined a gym (don't we all when we feel we need to get fitter?!), I started to adjust my nutrition and I started moving more, incorporating daily walks into my life. Fortunately with the amazing volcanoes on the doorstep this didn't prove to be too much of a problem even though there were times when I did literally have to force myself out of the door to do so.
Returning to the UK I continued with this journey which was enhanced by my continual quest and thirst for knowledge and embarking on, what was at the time, a revolutionary approach to my nutrition and fitness and I felt great, I felt like I was finally where I wanted to be body wise, I just needed to work on my mind! The picture on the left is on my 40th birthday, the one on the right is 4 years later when I felt really happy with where I was and how I looked, I felt comfortable in myself.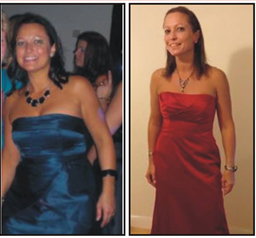 The problem was though was that I became complacent about these changes, I thought that I'd finally found the solution to whatever was wrong in my life, what I hadn't realised was the impact of stress and the effect on my hormones and well-being that this was to have plus I needed to address some health issues that I hadn't quite managed so well. I was diagnosed with Interstitial Cystisis and some digestive issues plus, most recently, adrenal fatigue, which I am now managing to work with rather than against.
I also had to work on changing my mind-set from one where I allowed others to dictate how I lived my life to one that enabled me not to let others control and influence my actions, decisions and how I behaved. I've done what Brene Brown suggests, writing on a small piece of paper (one inch by one inch) those whose opinions actually do matter to me – those who love me 'not despite my vulnerability and imperfections but because of them'. I welcome constructive feedback but those who judge me, call me too sensitive and/or too emotional, I just don't allow in my life that much anymore or allow their thoughts and opinions to matter.
I call myself a work in progress and I'm actually not just getting my life back on track from the past few months or years, rather I'm doing so from the past few decades!!
I'd reached a point of being close to burning out towards the end of 2015, and on top of this I suffered a very personal loss, and was close to losing my health, mind and sanity with the pressures, I was under, building up. I knew I had to do something and that is when I signed up to the Best of You (BOY) Programme under the guidance and mentorship of Jill Coleman, I enrolled on a Science Access Course to enable me then to progress to a Nutritional Therapy Diploma on top of studying for the Metabolic Effect nutrition qualifications and my 200 Hour Yoga Teacher Training Course.
I had yearned to be studying and learning again and, at the same time, I decided that I needed the accountability of a mentor and like-minded women to help guide me and my business forward, hence why I am here now, in my online home.
Fast forward to 2019. I now have an amazing coach and a wonderful network of fellow entrepreneurs.
I am beyond excited to be bringing you all that I have learnt, all the skills, knowledge and experience that I've acquired, directly to YOU so that you don't have to struggle anymore, so that you can start to create and live the life that you desire and that you so deserve to live.
Now, I'm here to help you discover what it is that will give you fulfillment in life.
I've coached, educated, taught, assessed many people over many years and helped them all too, in some way, shape and form – in both their business and personal lives and it is this which I am taking forward and offering to you.
To learn more about what I do and how we can work together, click here
Want to know even more about me to get to know me just that little bit better, my kinda quirky side?!
A few things about me to help you to know me better!
My Experience and Qualifications
My working life has included the following roles:
Business Owner - Pangaea Fitness & Training & Louise Grafton Life & Business Coaching
Personal Trainer & Fitness Instructor
Metabolic Effect Female Fat Loss Formula Instructor
Metabolic Effect Nutritional Consultant 1 (ME-NC1)
Aerobics, Aqua, Step, Ante & Post Natal, Fitness Pilates Instructor
Clubbercise, INSANITY & PiYo Instructor
Course Director, Tutor and Assessor for various fitness & health related courses & qualifications
Sports Studies lecturer and assessor
Fit Kids Coach, Swimming instructor, Gymnastics coach
Sports Development Team Leader
Sports Centre & Theatre Manager
Play Scheme Manager
Health Programme Co-ordinator with responsibility for the Exercise Referral Programme for three sites managed by Nexus Community (now part of GLL)
My academic and practical qualifications include:
Post Graduate Certificate in Education (PGCE)
MBA Business Management
BA (Hons) Business Management
A1 Assessors Award
Metabolic Effect Nutritional Consultant 1
Postural Analysis & Movement Correction
PiYo Instructor ProTeam Member
Clubbercise Instructor
INSANITY Instructor ProTeam Member
Metabolic Effect Female Fat Loss Formula Instructor
Fitness Pilates Core Fitness
RSA Exercise to Music
HFI Certified Fitness Instructor
YMCA Step
BACR Phase IV Cardiac Rehab

YMCA Aqua Exercise to Music
YMCA Ante/Post Natal
YMCA Supple Strength
YMCA Cardio Kick
YMCA Nutrition & Weight Management
YMCA Dance Style Aerobics
Fit Kids
Speedo Deep Water Certification
Freestyle Fitness Yoga
ASA Swimming Teachers Certificate
Class 4 General Gymnastics
200-hour Yoga Alliance certificate (RYT-200).