The Fulfilled Woman's Sanctuary is Now Open & Seeking Founder Members!
Prepare to live a thriving, fulfilling life in your 40s, 50s, 60s and beyond even through challenging, changing times.
The Online Membership that helps you to find the clarity you need to achieve real purpose, good health and lifelong fulfillment.
"Go confidently in the direction of your dreams. Live the life you have imagined." Henry David Thoreau
---
If you're a woman in your middle years, in your 40s, 50s, 60s & beyond, looking to live fulfilled, whilst fully enjoying your midlife, then you already know that you need to navigate through, and embrace, the challenges and changes that show up at this time.
With the current situation facing the world, that is affecting every single one of us, then you're already aware that you have to be able to adapt to change even when you're not as prepared as you'd liked to have been.
Change is an inevitable part of life.
You're fully aware that you're going through, or will be, the many different changes related to your middle years.
Think menopause, fluctuating hormones, becoming an empty nester, losing loved ones, re-navigating existing relationships, creating new ones, professional changes, health issues and so much more.
Plus now you find yourself in the midst of totally unprecedented times which are creating uncertainty, fear and doubt.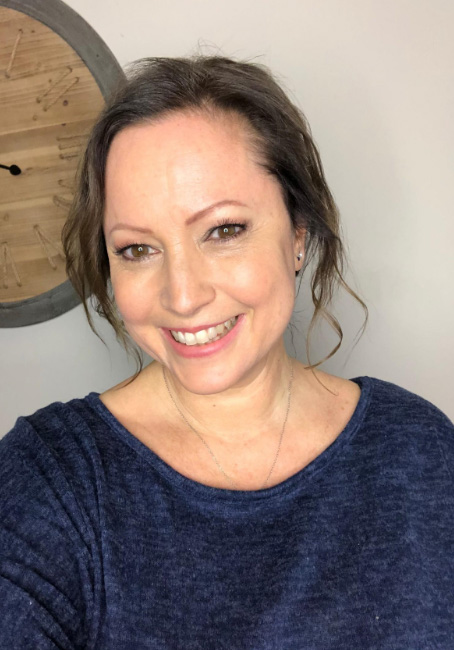 The Fulfilled Woman's Sanctuary
Is here to help you to navigate through, to thrive not just survive and to still be able to live fulfilled.
I'm a midlife woman myself, who has been through her fair share of changes and challenges! I've taken everything I've learned and experienced on my own journey, my knowledge, my expertise, the study I've undertaken, qualifications I've acquired, the lessons I've learned. I've combined all of this with that of other women I've coached and taught, those who have inspired me, worked with me, guided and mentored me, to create a comprehensive Lifestyle and Learning Experience that's like no other.
The Fulfilled Woman's Sanctuary is not so much a membership programme as it is a unique life experience. An experience that ultimately will be your one stop shop for all the resources, guidance, direction and support you need to be living a fulfilling life.
An Experience, that will teach you step-by-step how to create, and build, a fulfilling life in your middle years.
An experience that gives you direction, action steps, milestones to measure your progress by, so that you are fully able to navigate, and embrace, all the changes and challenges that come your way.
The Fulfilled Woman's Sanctuary is a UNIQUE Lifestyle & Learning Membership Experience for Midlife Women that ...
Is based on The Seasons of Change Cyclical Success Path. That takes into account the many different changes that occur in, and have an impact on, your life in your 40s, 50s and 60s. Knowing that change is going to happen, and that there is always going to be change, to manage and navigate in your life. It's not about avoiding it, it's about learning how to embrace it and that is what The Fulfilled Woman's Sanctuary helps you to do.
Helps you to confidently step out of your comfort zone so that you are not only able to navigate and embrace change but actively seek it. Knowing that there's more than one way to do so and that you are just as capable as any other woman in being able to achieve this. The Fulfilled Woman's Sanctuary shows you how. It is a safe space, free of judgement that allows you to explore, to try, to experiment to find what's right for you.
Provides you with a Road Map to your fulfilled future. You'll know your starting point, you'll know exactly what you need to do to bridge the gap between where you are now and where you want to be. Within The Fulfilled Woman's Sanctuary you'll be provided with all the resources you'll need to bridge this gap.
Addresses your biggest concerns and challenges around your age and time in life, acknowledging that life is not always going to be sunshine and rainbows. That sometimes you won't be fulfilled, happy and healthy, there will be struggles and perhaps you will get stuck. The Fulfilled Woman's Sanctuary is there to help you through these times when perhaps you need to know that it's okay that this happens and that those times will pass.
Has been created with focused implementation in mind. No time wasting. The Fulfilled Woman's Sanctuary provides you with the resources and tools to take action right here, right now to be creating, and living, a fulfilled life!
So if you're finally ready to take the action to step into living a fulfilling life, whilst avoiding overwhelm, stress, doubt and the temptation to stay where you are, then ...
Here's how we'll help you get there:

THE FOUNDATION: YOUR INTRODUCTORY CORE CONTENT
Seasons of Change Success Path: Your Path to Midlife Fulfillment
Change is an inevitable part of life, it's actually one of the only things that is consistent, change happens no matter what we do. As well as happening over time it can, as we have found out, happen rapidly without much warning and we have limited time to adapt in the initial stages.
We have a choice to either go with it and embrace it or resist it and struggle. Our approach, and attitude towards, change is especially important both in times of crisis and in our middle years as this is the time when there are many biological, emotional, physical and life changes and challenges taking place.
Menopause, hormonal swings and drops, children leaving home, loss of loved ones, ageing, work changes, relationship changes, health issues, loss of our younger years and so many more.
How we manage to navigate these will determine how happy, healthy and fulfilled we will be in our midlife, in our middle age!
How we work through unexpected and sudden change will determine how we get through it and whether we simply survive or thrive as well.
Seasons of Change:
Like the seasons of life, weather and the years, there are also seasons of change, different stages that we go through within each change that takes place during our lives.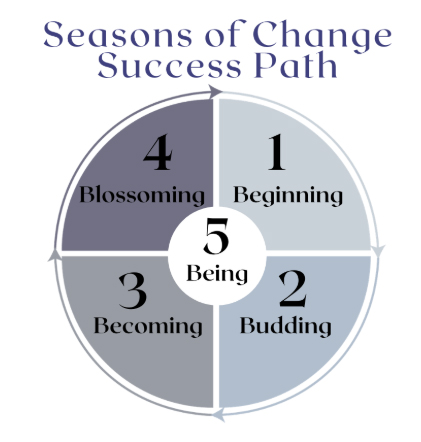 Beginning (the start of the change)
Budding (stepping into the change and creating your new path)
Becoming (navigating your new way of being)
Blossoming (embracing your new normal
Being (living a fulfilling life)
The Fulfilled Woman's Sanctuary provides you with a detailed roadmap of how to make your way through these different seasons, so that each time change enters your life, you will be so much more aware of how to work your way through it. Not get stuck in a season!
So that you not only do this but you embrace, and perhaps even seek out change as you move forward along your path!
Within The Fulfilled Woman's Sanctuary you will also have access to resources, tools, strategies, help, guidance and support to enable you to move through each of these seasons so that you are better equipped and better able to navigate through all the changes and challenges that come your way.
THE HUB: YOUR NEW MONTHLY CONTENT
Every month you'll receive access to new material, new resources. There are many areas of our lives that may need that little bit (or a lot) of extra attention.
But it's not wise to do it all at once! Because that would only lead to overwhelm and nothing being done effectively or efficiently!
Hence why each month there is new content, new strategies, new tools to put into your tool box which you can access at anytime you need to do so.
It's rolled out step-by step so that you can work at your own pace, take action on what you are able to take action on and check in as and when you are able to do so.
Each Month there will be:
A Guest Expert
Question & Answer Sessions
Mini Masterclasses & Workshops
Workbooks with exercises & tasks for you to do!
Monthly Midlife Resets
THE SANCTUARY: YOUR ONLINE HOME
With the beginning of each new month the previous month's content has to go somewhere! That somewhere is into one or more of the rooms within the Sanctuary so that you'll always be able to tap into all the information and resources that are provided within the Sanctuary.
Plus ... each of the rooms of The Sanctuary don't just contain the regular monthly content they also hold within them so much more.
We didn't want to overwhelm you each month but we knew that there would be other 'things' that you would need at different times so we thought we'd provide them here so you can tap into them as and when you want to.
We'll also be referring to different resources in the regular monthly content area so think of these rooms as an appendage, an add on to what you receive on a month to month basis.
This Exclusive Sanctuary, with its 'focused rooms' will evolve and develop as we do!
The 'Rooms' of The Fulfilled Woman's Sanctuary:
The Study = Personal Development (life skills, guidance, advice, relationship with yourself, time, money)
The Office = Professional Development (work, business, changing careers/jobs in midlife, starting your own business)
The Studio - Fitness & Movement (all workouts)
The Kitchen = Nutrition (recipes, meal planners, guidance)
The Lounge = Lifestyle (social life, travel, fashion, your home)
The Bedroom = Relationships (strategies to create a new one &/or improve and nurture existing one)
The En-Suite = Skincare, Hair & Make-Up, personal care, menopausal support
The Library = Books, articles, podcasts, Q&As
The Guest Room = Guest Experts
---
Frequently Asked Questions
How do I know if The Fulfilled Woman's Sanctuary is right for me?
There's only really one way to find out and that's to join! Seriously though, try it for a month for less than a dollar a day, and if it's not a great fit then you can cancel anytime. We would of course be sad to see you go but we do understand that not everything is for everyone!
I'm not sure if I have the time to commit to joining The Fulfilled Woman's Sanctuary.
You choose how much time you commit to being a part of The Fulfilled Woman's Sanctuary. It has though been created so as not to cause overwhelm but instead to reduce, if not eliminate it with the delivery of the content being in bite sized chunks, with a step by step approach, and the opportunity for you to check in as and when you want/need to. You'll also benefit from learning methods, and acquiring tools, which will enable you to actually create more time in your life. Time to do the things you have a passion for, and a yearning to do, so that you can have a fulfilling life.
Surely though, at my age, I'm too old and it's just too late to be able to make any significant changes in my life, to enable me to live a healthier, happier and more fulfilled life?
It is always possible to make changes, no matter what age you are or what stage of life you're currently in. You perhaps just may need that bit more guidance and support to be able to do so, which is what The Fulfilled Woman's Sanctuary helps you to do. There are many examples of women in their middle and later years who've embarked on life changing journeys which have completely transformed their approach and attitude towards how their life could be in their middle age and beyond.
You are never stuck where you are, you don't need to accept outdated ways of being, and there are many many opportunities out there just waiting for you!
Remember, we are the generation that is redefining middle age!
Isn't it unrealistic to think I can live a fulfilling life at my age?
Not at all! You can be living a fulfilling life at any age. You get to choose, you get to decide if you're going to do the things that mean fulfillment for you.
That is what is so exciting.
What is unrealistic is thinking that you can be happy, feel amazing, marvelous, wonderful and be great all the time, every single minute of every single day.
Which only leads to frustration and negativity because it's just not possible to sustain.
That is why we focus on fulfilment because even if things aren't going as you planned or hoped, despite the changes and challenges you will go through, it is always possible to be fulfilled, at peace and content..
I'm not sure I'm ready, or capable, of making the changes I need to make to live fulfilled.
If we all waited until we were ready then we'd never get anything done! Seriously though, life doesn't wait for anyone and the time is going to pass whatever you decide to do.
Yes, making changes, doing something new is scary, and can be extremely uncomfortable as well.
But so too can getting to the end of your life with regrets and wishing you'd done the things.
Your time is now and if you genuinely want to be living the best life that you can be living and no longer be putting off the things you need to be doing to achieve this, then action is what you need to take.
The Fulfilled Woman's Sanctuary shows you how to do this.
At your own pace, step-by-step, so that you can increase your confidence and be doing the things you need to be doing to make your life happen!
What's the benefit of joining now, as a Founder Member?
Not only will you be in at the very beginning, at the start of something new, you will also be able to influence how The Fulfilled Woman's Sanctuary evolves and develops.
Your experience and feedback will be crucial in how it moves forward.
You will be one of the special few to whom I will be turning to fine tune the Sanctuary, to make it not just an amazing experience, but an incredible one.
Plus you will be paying the lowest price it will ever be offered at and this price will be locked in, for all of the Founder members.
Meaning you will never have to pay more per month or per annum than what you will be initially signing up for.
So, imagine, as The Fulfilled Woman's Sanctuary grows and evolves how much goodness will be contained within it.
Which you will be receiving access to for its lifetime, for only a fraction of its true value.
If I join and realise that The Fulfilled Woman's Sanctuary is not a fit, can I cancel anytime?
No problem to cancel if that's what you decide is right for you. The Fulfilled Woman's Sanctuary experience is totally risk free. You're not locked into anything and you can cancel anytime. If you're a monthly member then you will just stop your monthly payments. If you've signed up for a year, to benefit from the cheaper price for doing so, and decide it's not a fit, cancel at least 7 days before your renewal date , we'll refund you for any unused months.
What happens when I join The Fulfilled Woman's Sanctuary?
As soon as you join The Fulfilled Woman's Sanctuary you will receive a Welcome Email with your login details for the Membership Site and your invite to join the Online Community. Once you have accessed the Sanctuary you will find yourself on the 'Home' page which includes information about where to start and how to navigate your way around the site.
The Fulfilled Woman's Sanctuary is PERFECT for you if...
You are struggling, you're stuck, you're at a crossroads, and just want to stop struggling, become unstuck and know which direction to go in, once and for all!
You know you want to take action but you just don't know where to start.
You are willing to put in the work to live a happier, healthier, more fulfilling life.
You are tired, exhausted even, of thinking about a life you want to live yet knowing that you're not living it!
You're ready to get going and do the work to live fulfilled.
You're aware and excited that you now need to zero in and get fully focused.
You don't mind having some fun and you welcome engaging with other women who are also ready to get going with living a fulfilling life in their middle years and beyond.
You don't mind receiving help and support and having your hand held along the way.
If you find yourself agreeing to any of the above statements, then I can't wait to meet you inside The Fulfilled Woman's Sanctuary for your Exclusive Learning & Lifestyle Experience!
Here's what you're getting when you enroll as a Founder Member today:
Full Membership of The Fulfilled Woman's Sanctuary which includes FULL ACCESS to the:
Introductory Core Content (Your Foundation) & The Monthly Content (Your Hub)
Each Exclusive 'Room' of The Sanctuary, your online home.
Private Online Community for the The Fulfilled Woman's Sanctuary
In addition you will be eligible for the two unique bonuses:
Bonus 1 - Access to The Blissfully You Project Project (normally priced at $57)
Bonus 2 - Discounted rates for all other service and products
When you enroll today, you'll get access to everything for just:
Pay Monthly
Monthly Recurring Payments of
$27
For the Lifetime of Your Membership
Pay Upfront & Save
Annual Recurring Payments of
$270
For the Lifetime of Your Membership
Once you click one of the Enrol buttons you'll be taken to the joining page of the Fulfilled Woman's Sanctuary. This is where you'll create your own personal account as a Founder Member. Once you've entered your details you'll be taken to the payment page which once completed will then activate your account!